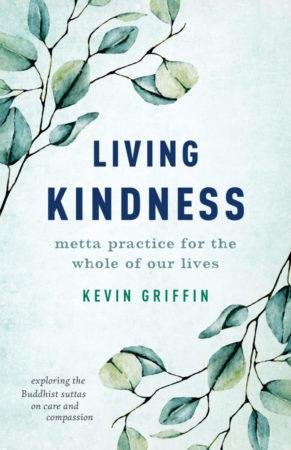 From Publisher's Weekly: "The lucid analysis of Buddhist texts and the jargon-free examination of metta make this an ideal primer on a core element of Buddhist thought and practice. "
"This is an exceptional book, one that could serve equally well as a starting point for understanding the Buddhist teaching on kindness or to deepen your understanding in an already established meditation practice." Sharon Salzberg, author of Real Happiness and Real Love
"Kevin has written a practical and accessible guide on how to take loving-kindness and transform it from an idea, into something we can truly live with and live by. " Ajahn Pasanno, abbot Abhayagiri Monastery, and author of Abundant, Exalted, Immeasurable.
"Living Kindness is a liberating book, both for the intellect and the heart. Kevin Griffin is grounded in a deep understanding of what the Buddha taught, and he makes those teachings come alive with his personal stories and insights." Wes Nisker, author and Buddhist teacher.
"Living Kindness is a delightful, inspiring, and profound book on one of the primary forms of love taught by the Buddha. Kevin Griffin's decades of living with these teachings come through in these honest and insightful reflections."  Gil Fronsdal, author of The Buddha before Buddhism: Wisdom from the Early Teachings
To live kindness is to express the essential Buddhist wisdom of selflessness.
Through stories from the ancient Pali canon of Buddhism and personal reflections on modern life, Dharma teacher Kevin Griffin reveals the richness and multifaceted nature of loving-kindness or metta on the Buddhist path. Along with the other brahmaviharas or "divine abodes" of compassion, sympathetic joy, and equanimity, the practice of loving-kindness is not only a meditation technique—it's a radical way of life based in wisdom, ethics, and compassion for all beings. As one friend on the spiritual path speaking to another, Griffin explores the human dimension of what can sometimes seem like lofty philosophy. What would it mean to be completely free of ill will? How do we love without clinging? Can we expand our loving-kindness beyond the human realm to encompass the Earth itself? And how does loving-kindness relate to the ultimate Buddhist goal of enlightenment? Through guided practices and illuminating explorations of classical texts like the Metta Sutta, readers are invited to deepen their understanding of a core Buddhist teaching.
Available at bookstores and on Amazon and other internet sites.